In our last edition of Active Lifestyles, we took an in-depth look at having an active lifestyle. It covered everything from how to maintain a healthy mindset to how to do a squat. Today, we interview Bryan Murphy of The Shills and Deathhand to find out how he keeps his lifestyle active.
Musical mastermind Bryan Murphy shares the spiritual odyssey that led him to become the frontman for the popular Boston-based band, The Shills and his experimental project, Deathhand. He shares his creative daily interests and how cannabis has helped him lead his active, healthy, and fun-filled life.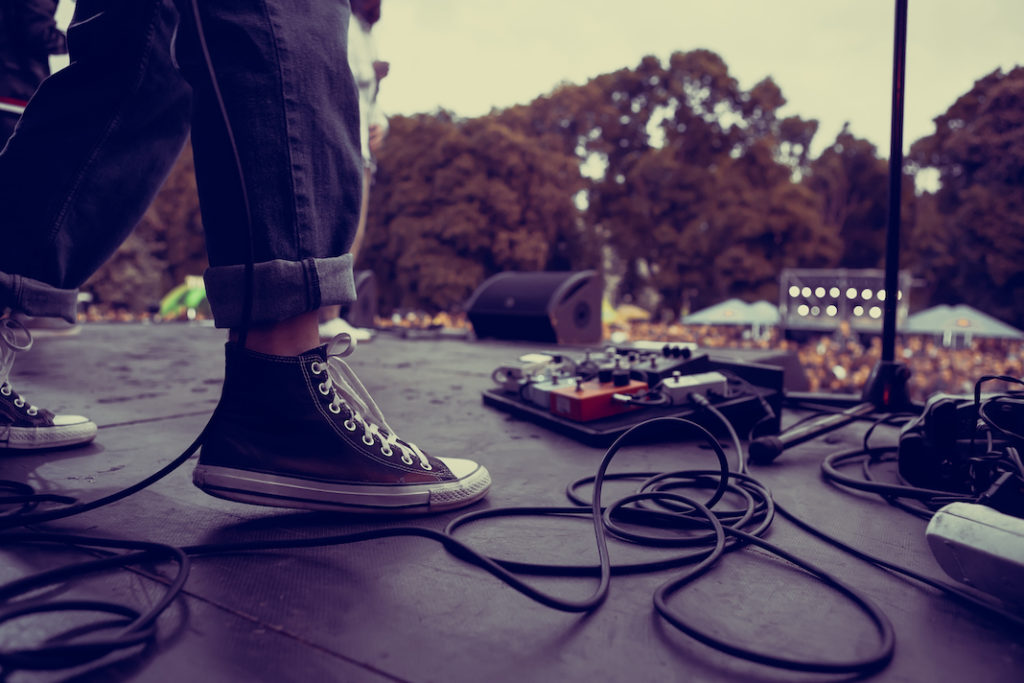 Living the dream
Many people have the childhood dream of seeing their names up in lights. They dream of playing and living passionately. However, the life of a musician isn't always easy. There are uphill climbs of long days at practice and many nights spent away from home, to name a few.
Then there's the magic of initial insecurity of sharing candid deep emotional lyrics that wind up becoming the anthem of a generation. It's worth it when these masterpieces are loved and cherished by fans. Bryan began the interview by enthusiastically gushing about Björk.
"The first time I heard her, I was like, 'What?! You can actually do that?!' She completely fascinated me! I've been covering 'Hyperballad' for years!" It's easy to get the friendly musician on a roll about artists that ignited his lifelong musical passion.
Diving deep into the world of electrifying music that inspired his artistry, Bryan lost himself while describing Björk's brilliance and hadn't even realized the interview had already begun. Fond memories of him and siblings dancing around the kitchen of his childhood home were instrumental in planting the seeds that would flourish for a lifetime.
"My father had this massive collection of records and cassette tapes that he allowed us to dig through. Nothing was off-limits. My father is a musician too, but he never pushed the music he liked on us". Music runs deep in the Murphy family. Bryan's father, Geo, is an accomplished musician and educator who plays the trombone, flute, piano and is an excellent singer with a "cool raspy voice."
Even though Bryan and his sisters and step-sister (Mischa, Amber, and Tiffany) were all granted complete access to their father's endless musical collection, Bryan loved his sisters so much that he would let them select the music for their kitchen dance parties.
Bryan, who has since graced stages across the globe, recalls the intimate family moments that inspired him to become the multi-instrument playing, singer-songwriter he is today. He lights up while talking about those times he'd spent dancing with his family to artists like Pat Benatar and Paula Abdul.
"My sisters always picked Cyndi Lauper, Whitney Houston, or Madonna, but I had my sexual awakening the first time I heard Janet Jackson!" Admiring his father's openness, Bryan explored the realms of music that enriched his budding musicianship.
Geo encouraged his son to pick albums from his eclectic collection that interested him. He began to notice a spark in Bryan's fascination for melodic music. He nurtured his advanced musical taste by introducing him to Sara Vaughn, Duke Ellington, The Kinks, and John Coltrane.
Geo marveled at his young son's ability to recognize intricate nuances in jazz music that college students could not. He was five. It was at this young age that Bryan discovered music offered limitless space for creativity.
Once Bryan made the profound discovery that he had the ability to create new forms of music, he began to form deep connections to artists like Bjork, Alice Coltrane, and Freddie Mercury. Bryan began to study music and now has the ability to play multiple instruments (including drums, trumpet, guitar, bass, piano/synth, mandolin, ukulele, banjo, trombone 'badly' and vocals).
Bryan became more and more aware of his unique identity as a musician while going to Foxboro High School. He found himself with a unique opportunity to make friends with peers with who he identified.
"My parents had music-loving students stay at our house to take showers and get ready for school because we were a city family that moved to the suburbs. So I was always around the METCO students, and they were usually the best musicians. My father, being the music teacher, lived right next to the middle and high school. So we just took them all in to get the proper education."
The METCO Program is a grant program funded by the Commonwealth of Massachusetts. "I always felt like an alien. City kids are my people. The METCO students were my peers from the city who had to go to school in the suburbs because their families were broken… like mine."
The music loving METCO students also got a chance to rummage through Geo Murphy's amazing record collection to find inspiration of their own.
"The METCO students were so massively influential while being driven to and from Foxboro to Boston every day. They were the better musicians.".
While studying music at school, Bryan began to study the music that he found most intriguing. He finally had a place to understand jazz on a deeper level. This influenced his obsession with the music of Duke Ellington.
He recognized loving the influential roots of his favorite hip-hop group of the day, 'A Tribe Called Quest.' As Bryan's admiration for music grew through his studies, the circle of individuals he shared common interests with shrunk.
He began to distance himself from people he viewed as not working for the things they wanted. He would play them the elegant music of jazz music or hip-hop music. Most peers didn't understand the music that was not the angsty, aggressive music of the 90s, so Bryan began to distance himself to focus on his creative musical visions.
He soon began to embrace artists such as "Lots of Queen. Queen is my favorite band. Spoon, The Kinks (my dad thought that was weird), and The Beatles. I love wild stuff like Mr. Bungle and Primus. I loved weird krautrock like Can and Gong and MAGMA. Duke Ellington, Sarah Vaughn, Wayne Shorter, Clifford Brown, John Coltrane. Weird metal like Meshuggah, Zombi, King Gizzard and The Lizard Wizard. Electronic stuff like Air, Com Truise, Aphex Twin. Hip hop like The Roots, D'Angelo. So much stuff. Haha."
His eclectic taste in music attracted the group soon to be known as "Jerk." Within a year, his first group was opening for world-renowned alt-metal group Godsmack. Bryan paused when he realized the words were coming out of his mouth.
He'd never fully acknowledged how surreal those moments were. Bryan currently works as an engineer in between touring with his bands. He beams when he proudly speaks of his band, The Shills, the band he's been with since 2004. The 17-year-old band has all its original members.
"I don't hear of too many bands that have been together as long as we have with all the original members. That's hard to do. These guys are the most talented musicians I've ever met, and they have no airs." They all formed unique friendships in this musical family and still approach their craft with openness and fun."
The bandmates are all so in sync. They can just move freely while orchestrating the music that stirs his starstruck audiences around the world. No matter where Bryan may go, he cherishes the memories he holds of dancing with family while celebrating life.
He remembers the explosive wonder as he heard artists like David Bowie and Prince for the first time. These treasured moments all added to the gifts he held and how his life unfolded as a result. Geo still has the extensive collection that became the musical influential seed in young Bryan's life.
Because he received such abundant support in his dream (both from his immediate and musical family), his childhood dreams are still flourishing in his life today. His passion for an infinite creative space still guides him as it did in his youth and burns stronger than ever.
What drives you?
"I really like being on stage because I see people respond positively to something I've made. It feels like building a house. When people walk into that space…
What they see in that room, this is for them. I do it for that moment. I do it for joy to make that feeling happen over and over.
Bryan never loses inspiration, whether it's creating for his band The Shills or his solo experimental project Deathhand. Both bands have music coming out this fall.
"I write the songs that I want to sing a thousand times. I do it to hear people sing and share a moment when I hit a certain note. Musicians shouldn't do it for any other reason. Musicians are like therapists by sharing and giving it to the songs that speak for them in a way they can't."
"A lot of people don't have the confidence to write or create. There are so many; 80% of the population doesn't create anything. Sometimes they feel the need to shout into a void. Some people need me to be that voice. You can have an active lifestyle, and it's a part of vanity to think there are certain things we can fix ourselves.
When we are sick, we think we can solve it ourselves, but sometimes you need a professional to do it, and that's me. People need someone to express what they feel. I'm a musician, and I shouldn't be expected to take care of my intestines. There's a doctor for that. My job is to make people feel connected to the world."
Bryan lives a full life, despite occasional pain from Crohn's disease made manageable by CBD products.
"I have Crohn's disease, so there's usually some pain. I use CBD to ease the pain."
Crohn's disease was first described in 1932 by Dr. Burrill B. Crohn and colleagues. Over 200 genes exist within this disease. In 2015 statistics showed1.3% of American adults reported having been diagnosed with Crohn's disease.
Because Bryan has Crohn's, he must eat a stringent diet. This has turned him into an avid chef. He often shares photos of carefully crafted foods that he lovingly prepared. He takes great pride in cooking as it allows more avenues to be expressive.
There are many important parts to managing Crohn's. Proper sleep, avoiding carbonated drinks, steering clear of popcorn, vegetable skins, high-fiber foods, drinking plenty of fluids, and eating small meals several times a day help manage Crohn's disease.
By keeping a food journal, you can help to identify foods that cause problems. Things like stress play a factor and stress management. Physical activities, such as jiu jitsu are beneficial in regulating bowel function while in remission.
What keeps you active?
"I love sports. I am 5 foot six, 150 pounds, the shortest man on my basketball team, and wouldn't have it any other way!"  To stay active, Bryan loves camping and hiking. Originally being from the city, he couldn't wait to escape to the woods.
He loves studying jiu jitsu, "but not as much as playing basketball." In addition to sports, he loves searching the city for pop-up rogue art. "I love searching Reddit groups that tell you where the latest graffiti was spotted before the Boston police cover it up. I love Avante grade stuff."
In conclusion
We love Bryan's story and hope it will inspire you to live out passionately and creatively. We are proud of our all-natural, hemp-derived CBD products here at Green Life Grows and are honored to serve our satisfied customers.
Our Green Life Grows products can enhance your life, whether it's helping you sleep or helping you shine. If you'd like to learn more about our products, please click HERE and see how our products can serve your specific needs.
We pride ourselves on offering the best quality products, like our Premium CBD Sports Cream. Each 4oz bottle contains 400 mg of CBD. Designed with the athlete in mind, you will love the way our Sports Cream cools and soothes your muscles. Sleep can be an underestimated consideration for overall health. To get your best rest, try our Life Grows Nano CBD Softgels.