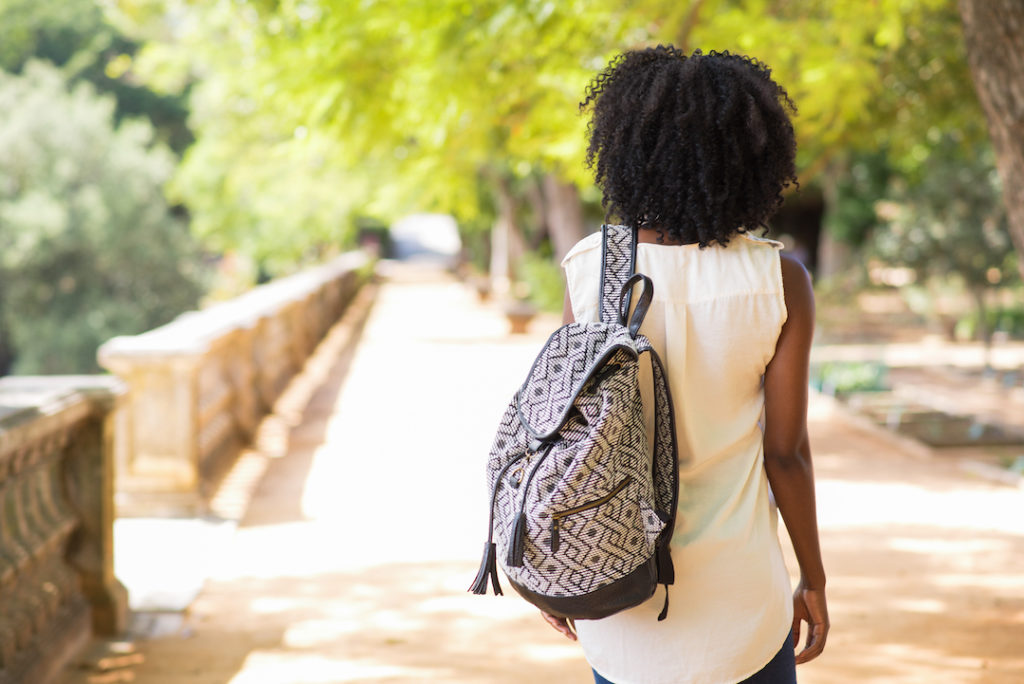 Embracing "Me"
It's common to pass a cafe and notice a stranger sitting by themself, wrapped in quiet contemplation. A quick assumption may lead one to believe that they're probably waiting for someone. However, for those who embrace a solo lifestyle, the simple pleasure of a moment with yourself is one of many reasons to create their own path through life.
In our last article, we discussed different tips for living a solo lifestyle and some activities to consider. Here, we'll build on that and talk about:
What do statistics say about solo lifestyles?
How do the rising number of solo travelers impact traveling statistics?
How will CBD products help your solo journey?
What are some stories from people who chose to live independently?
Let's go ahead and talk about what you can expect from the solo life.
The Solo Life
Living independently isn't about being embittered by a broken heart. It's not living as a hermit. It's a life of self-reflection that embraces limitless spiritual fulfillment and growth. In a quest to get more out of life, it breaks free from the confines of societal expectations.
Statistics show that people are embracing being single more and more. According to XXXXX:
•10% are looking for casual dates
•14% are looking for a commitment
•26% are looking for either
•50% of adults are NOT looking for a committed relationship or casual dates.
Combined, the percentage of people looking to stay single outweighs the people looking to have a relationship, casually date while being open to a relationship, and people looking to date casually.
In 2020, Pew Research conducted a study into the outside pressures of finding companionship. The numbers show that despite the evident growth in the people finding fulfillment in being single, family, friends, and society still weigh in with pressures to find a partner, with 51% of the pressure coming from friends, 54% coming from family, and 61% coming from society.
Years ago, it was expected for the generation of a certain age to follow a specific course. There was a time to settle and a time to marry. However, with shifts in the percentages leaning towards staying single, solo travelers are growing. An online search quickly presented statistics of people who planned to travel solo.
•The number one trend in 2019 was traveling solo, according to Klook.
•Keyword searches for traveling solo increased to 131%
Though the statistics are somewhat recent, many stories from years ago began by pursuing education but resulted in a lifetime of exhilarating life-altering solo travel. For example, take the story of Claudia, a single woman who traveled abroad to study German in Germany during the 1970s.
Though students from all over the world attended her German class, the teacher spoke only that language. There were no opportunities to manage in her native English. Between her classes and the family hosting her (that only spoke German), she found herself able to communicate reasonably fluently within six weeks.
She explored and expanded upon her love of cooking while accompanying the family in the kitchen (a passion she still carries). Though her studies kept her social life mostly to school and home, she made time to celebrate a fun and boisterous Oktoberfest.
While at Oktoberfest, she recalled being approached by a man who asked her if she was German. She responded that she was not but Jamaican. He proposed on the spot, vowing that even though he already had three wives. He intended to make her wife number four but promised she would always come first.
All she had to do was move to Africa with him. Since they hadn't even exchanged names at the time of the proposal, this was an offer she could refuse and swiftly declined. She laughed as she remembered meeting this very forward individual and wondered what her alternative family dynamic would have been had she chosen to move to Africa to become wife #4.
She returned home after a year as a changed woman. She had taken a chance on herself to improve her education while taking on the role of a guest in someone else's home. Though she's now married with grown children, she still enjoys solo traveling and treasures photos from all over the world that tell the many stories of her remarkable life.
Another woman embracing the solo lifestyle, fiery singer-songwriter JaQuita May, captivates the room with her effervescent presence, both on and off stage. She is the voice that commands attention and has been compared to Whitney Houston, Martha Wash, and Tina Turner.
Her versatility ranges from jazz to rock, along with 25 of her own dance originals. JaQuita's fierce dance performances, right down to her sultry strut to the microphone, trademark her style. With her years of experience, you can imagine her moves, powerful voice, and intelligence form a unique personality. To many onlookers, it's clear she can easily have her pick of partners.
"I don't want to say I chose to be single. Yet I am extremely comfortable alone. I realize now I actually prefer it. I am a singer-songwriter that's blessed to actually be able to live my passion. Of course, I have had relationships, but I'm yet to be in an intimate bond where they are able to understand my life."
JaQuita May's journeys while touring have taken her across the globe. Her music site shares career highlights, like singing for her headlining tour in Italy. She was also named "The Voice of The Soul" for Life People magazine.
She has sung for clubs with a capacity of 10,000 and continues to wow people while performing in the Summer of Love Experience at the Ocean Casino Resorts in Atlantic City, New Jersey.
"I have not been in a relationship that I consider life-altering in more than a decade. I do not miss being in a relationship at all. I believe in growing from within and allowing a bond to happen organically and spiritually. I'm grateful I have this outlook on relationships and don't need the validation of a partner to confirm my existence."
"This is not to say I look at relationships from that lens. I believe a healthy bond is absolutely beautiful, and if one were to grow, I am accepting. I am also accepting of being alone." JaQuita is not alone in her quest for spiritual growth. In fact, Klook found that 84% of people who travel alone are women. The number one destination for solo travelers is Australia.
Emma is an Australian singer-songwriter and artist with extraordinary stories from days spent abroad as a solo traveler. She shared how her journey of living abroad impacted her life as a musician and led to motherhood. She began life knowing exactly what she wanted. This meant stepping out of the expectations set and into an adventure.
She recalls the trip to Colorado in the United States that was instrumental in creating her desire to see more of the country. She began reading The Beat Generation, which inspired her decisions to follow her dreams. When she returned home from her trip, she realized her small town was even smaller after discovering her new goal of seeing the world.
"When I got back home, I realized how small everything was. People put me in a box I didn't ask to be put in. Staying in my environment, people look at you in a limited way, then it starts to rub off on you."
She had a live-in boyfriend at the time, but she was unstoppable once she made up her mind. She was able to fund her trip to America by applying for and receiving three grants.
"I applied to three and didn't expect to get anything, but then a grant for five thousand showed up. Then the next and the next, totaling fifteen thousand dollars to go to New York for school and work." It was fate.
Though she was sure this venture was what she wanted, Emma, an avid gardener, took to nature to ease her worry about the new life ahead. She was nervous about the exchange rate and what her new life would become. "I had to stop thinking about what I didn't want and start focusing on what I wanted."
This experience inspired her album, "In Your Garden." When she arrived on American soil in 2003, she felt right at home and as if she'd been reincarnated back to New York, and she realized she would call New York her home for a long time. She believed that fate was aligned to provide her a magnificent place to stay.
The 24-year-old stayed with a family in a stunning home in Sleepy Hollow, New York, when she began her journey as a student living abroad. Fate revealed itself all along the way. A gorgeous waterfront apartment across the street from the Hudson River and train were held specifically for her by a person who eventually became her landlord. Later, she quit her job and moments later was offered a new role while riding home on the train.
While coordinating art displays as a volunteer during the Howell festival in Tompkins Square in NYC, I met fellow volunteers that would become friends and instrumental in her life as a musician. She gained even more experience by simply saying "yes." "Yes" to going to parties and watching bands play. "Yes to collaboration."
"Yes" to hopping on stage and delighting the audience with an electric show. She viewed creativity as infinite and welcomed all who wanted to be creative into her life. Being a force to be reckoned with when she hit the stage, she proved to be the perfect frontwoman for bands.
Through her captivating stage presence, confidence, and charming personality, she became a local favorite. The 6'2″ singer-songwriter received the fitting nickname, "Big Sexy." Though she had lots to distract her studies (active nightlife and could see bands any night of the week with friends), her baby G watch was always at midnight.
"I didn't want to get caught up in anyone else's agenda. I didn't want the focus to be taken off the fact that I'm an artist." Knowing that she had to be focused on fulfilling her arts calling, she stayed the course when it was so easy to stay for another drink and watch another set. Her true love came first.
Even with the attention she received, Emma chose to remain single, "In case an opportunity came up, I wanted to be able to leave and not be beholden to anyone's expectations." Love interests would remind her, "Your career can't hug you at the end of the night." Her response was, "Oh, I don't care about that."
Her motto was, "I can leave whenever I want and not have to tell anyone. If it's not benefiting me, I leave." The highs on stage were contrasted with days spent in sadness. The thrill of the performances came to a halt at the end of each show. On television and the radio, her musical life was picking up traction that set the course for incredible achievements. She wondered why the success that was beginning to unfold would often leave her feeling like something was missing.
Emma discovered she was pregnant at the precipice of her musical career. Never afraid to adjust, she took the 19-hour flight back to Australia to have her baby. She still believes fate manifested the beautiful beachfront home that she shares with her son, who is the light of her life.
Her flavors have changed, though her core passion is still art in any form. When she swims, she still tells herself, "You're a winner" with every stroke. She continues to live her life in passion while she encourages her son's musical talents and artwork.
Looking over her life, she's proud of the decisions she's made to lead her to wake up every morning excited about life. When she gardens, she does it with passion. She grows food for herself and her son in the expanse of land outside her home. When she contemplates certain parts of her past, she hits the garden to dig and rip roots and weeds out of her garden.
She now sees the efforts of her work in the flourishing gardens. Once barren wastelands, she sees herself reflected in the seeds she plants, gambling on their growth but nursing them lovingly to reach their fullest potential.
Putting attention to it works. Looking at it lovingly made her experience the same love reflected back at her. Seeing the space she could enter while painting made her see the possibilities in her art. Sitting in the garden listening to birds makes her think of her potential. "As my flowers bloom, so do I," says Emma. "I'm glad that the people that could have held me back were absent so I could receive the greatest gift, my son."
In Conclusion
While this article was written to highlight the 84% of women that travel solo and the lives they lead, our CBD products will be there to support your adventures, no matter who you are.
Our CBD Softgels provide the precise dosage of broad-spectrum CBD oil for your everyday needs. Whatever path you choose, whether it's alone, with someone else, at home, or exploring foreign lands, your journey is meant to help you grow. Let our CBD products help shine along the way.
Where will your next adventure take you?